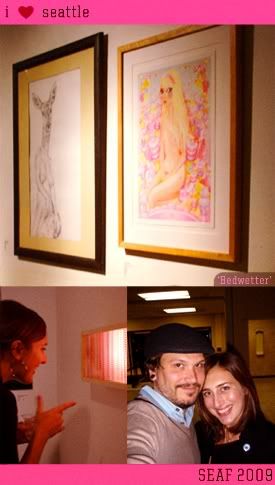 We just got back from the Seattle Erotic Art Festival and we really fell in love with that city!
I've posted on
Female Persuasion
about a few of my favorite artists and performers from the show. It was a fun - and interesting!- experience. I've never taken part in an event 'erotic' in nature, even though I've been drawing naked girls for years. 'Bedwetter' was definitely on the more subtle side, which is not something I would have said about this piece before. It was also an exercise in conquering some fears! I was able to go up to the obervation deck of the space needle and I also was able to form some coherent sentences when interviewed about my piece on camera at the festival :P Hurray!
i took these photos nearby the seattle exhibition center and at the pike place flower stands which were incredible!